2.3 piWebCAT - operational notes - buttons and sliders
I use my FTdx101D configuration as an example.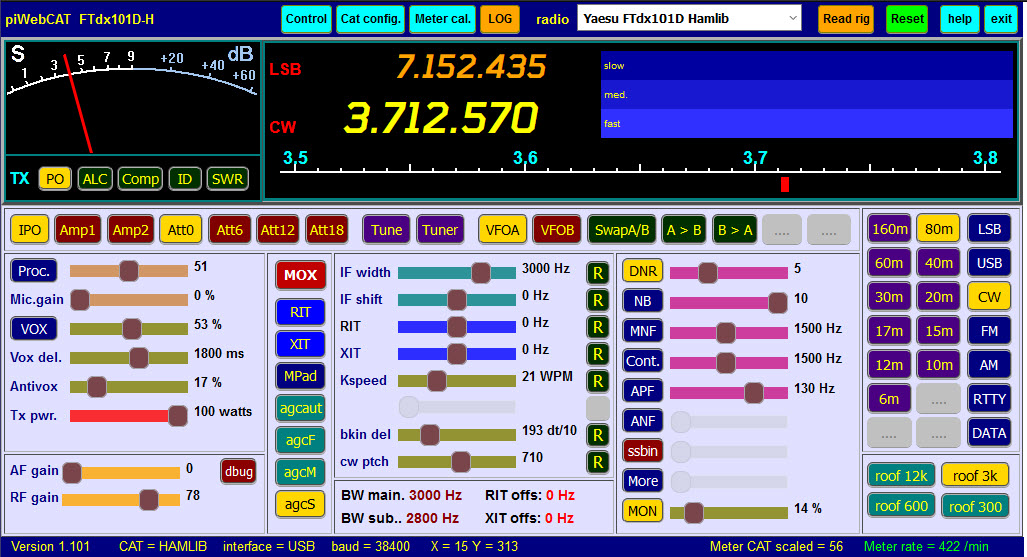 Buttons and Sliders
Configuration is discussed in detail elsewhere ... but note the results of configuration:
Many buttons are in groups

: eg: band, mode, IPO, Attenuators, roofers, VFO A/B.

Some buttons toggle on/off

, eg: DNR, NB, MNF, APF, MON, Vox.

Some buttons are single action

, eg: swap A/B, A>B, B>A, +25kHz, -25kHz

Two

buttons launch popups

,ie;

MPad

(memory keypad) and

More

(24 more buttons)




(Note that even these have user configured button choice, caption and colour).

A button can be confiigured to switch to a specified memory channel (eg:

M17

in the examples)

Sliders

are configured to match the range of values on the radio.




Example:

IF shift

... this is user configured for centre zero with range -1200Hz to +1200Hz.




The

R

buttons reset a default value .... which for IF shift is zero (centre)

The five Tx meter buttons select the meter value to be displayed on transmit.

MOX

toggles transmit/receive ... and also lights up on PTT or radio MOX.
The detailed configuration needs to reflect the operational structure of the radio.
eg: In the FTfx101D,
Most receiver button and slider parameters have different values between the




two receivers (A and B). (

This is not so all radios

.)

Some settings change on band change.

We only have one set of controls

which must reflect the current VFO's settings

.
Loading all the settings can take 4-5 seconds. During this transition time, the controls are inactive.
The commonest need for a rapid transition is on VFO A/B switching (with or without band change).
piWebCAT provides for this by storing the most recent slider and button states for each VFO.
eg: VFO A selected - switch to 40m band - 5 second delay loading settings.
then select VFO B which is on 20m band - 5 second delay (unless previously selected)
Thereafter, VFO switching is rapid using the stored 40m data for VFO A and the 20m data for VFO B.
Control, Read rig and Reset buttons
Control

Switches to or completely redraws and restarts the main page

Reset

Restarts the main page program code. Popup windows positions are preserved. (eg: log)




Control settings are resynchronised to the corresponding rig parameters. (approx 5 sec)

Read rig

Control settings are resynchronised to the corresponding rig parameters. (approx 5 sec)